Group Wheel
The wheel is one of the most popular and valuable tools available to accredited TTISI professionals, which can help you and your clients get a "big picture" snapshot. Having this snapshot then gives you the ability to identify potential differences, conflicts, similarities, and/or strengths at a glance.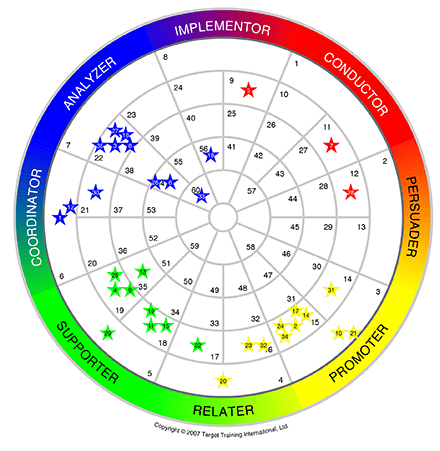 An example DISC Group Wheel is shown above. This organisation had approximately 50 financial planners, advisers, and support staff with a large percentage of DISC styles clustering towards the S and C quadrants, and only a few individuals situated in the D quadrant.
This kind of visual could be useful as a tool for discussion or simply for your own information as part of your coaching or training preparation.
In addition to DISC, the group wheel is also available for Motivators and Driving Forces.
Motivators Group Wheel: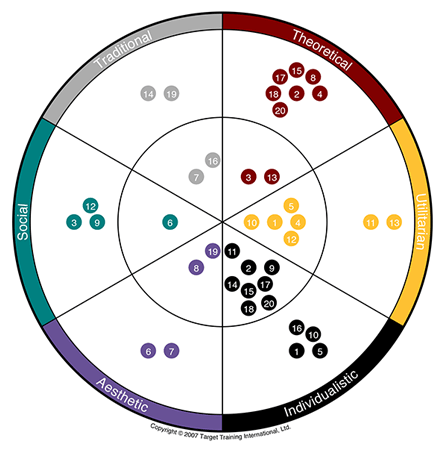 Driving Forces Group Wheel: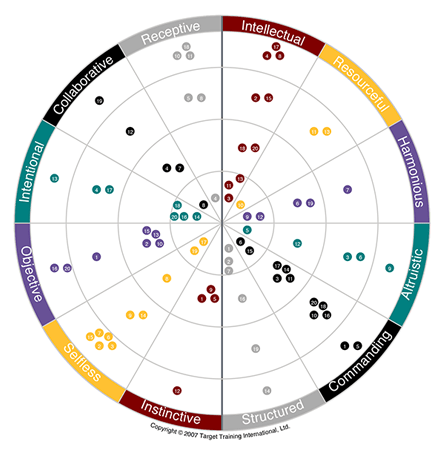 How to Create A Free Group Wheel for DISC, Motivators, or Driving Forces?
For more information about this feature or to request a Group Wheel — with or without names — simply contact a TTISI team member. Please ensure all individuals have completed a profile prior to making a wheel request.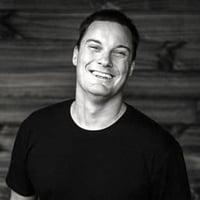 General Manager. Since the early 2000s, Trevor has worked with thousands of Talent Management professionals to develop and apply assessment-based talent management solutions for selecting, developing and managing people. Trevor is an active member of the TTI Success Insights (TTISI) Global Advisory Council, contributes to TTISI product development and is a regular presenter at TTISI-R3. He is honoured to have received multiple Blue Diamond Awards and, more recently, the Bill Brooks Impact Award recognising his contributions to the TTISI global network.